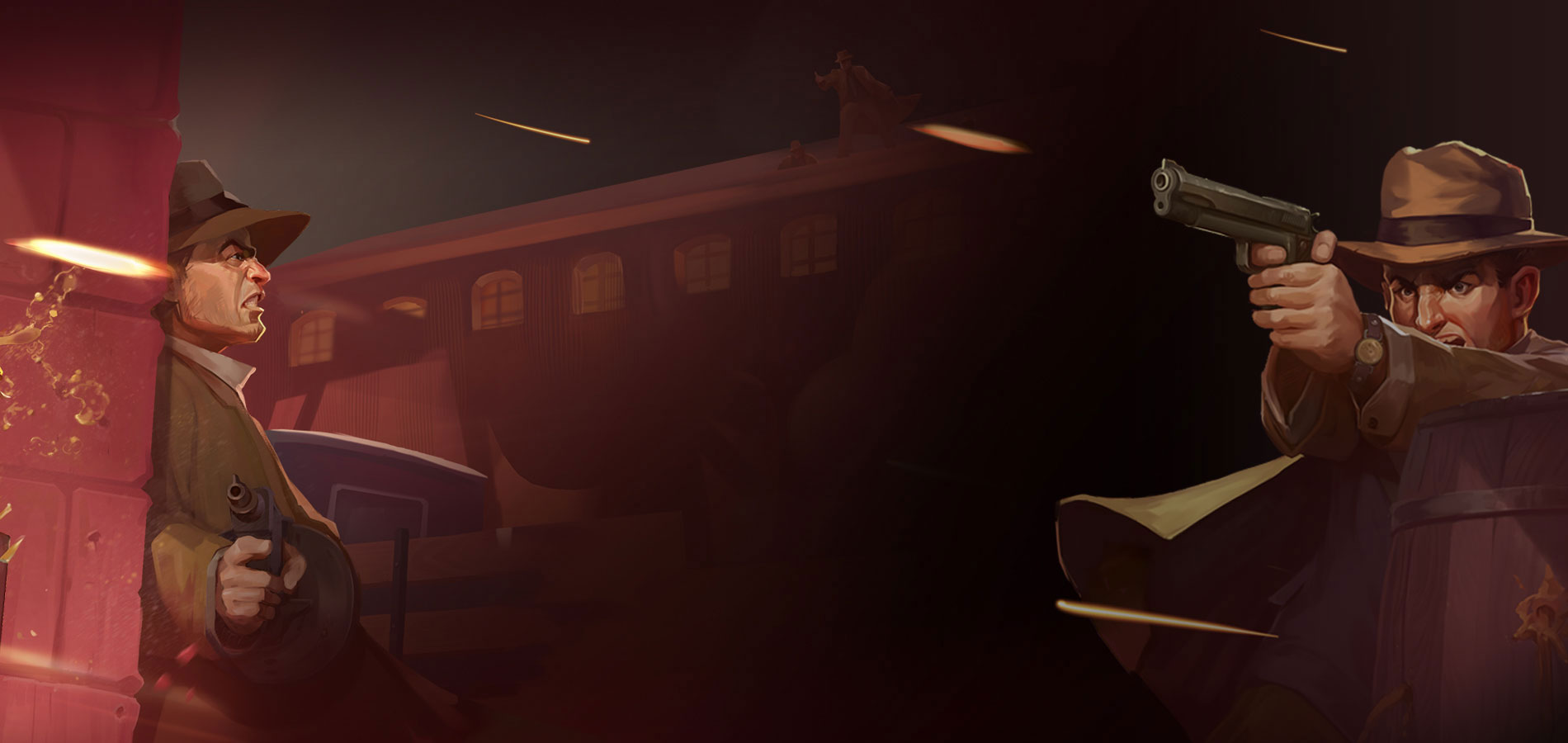 Bloody Business, the new expansion for Scarface 1920, arrives on Gamefound on June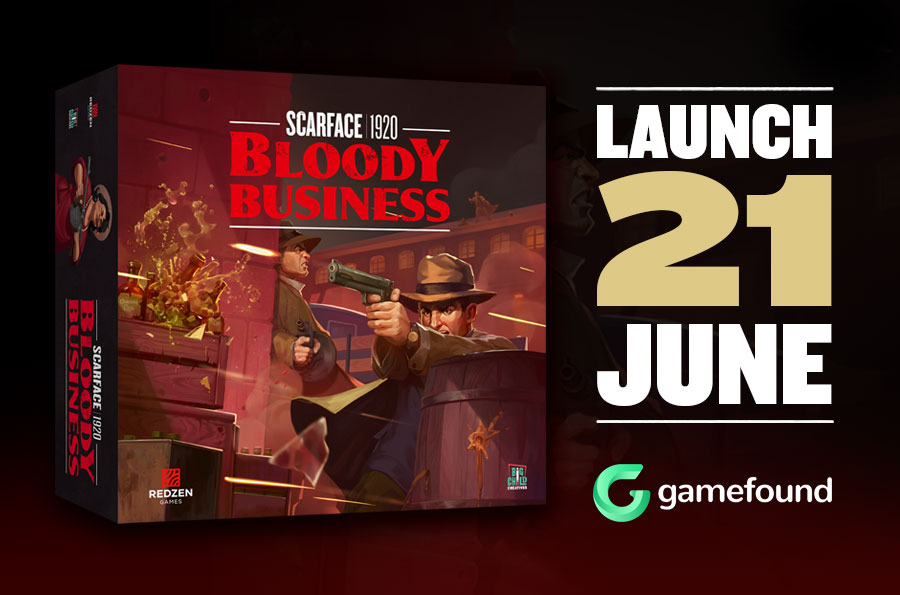 May 17, 2023
Three years after the start of Prohibition, Al Capone and the other bosses have multiplied their power. However, Chicago has become too small for the gangs aspiring to control it, so it's time to take action… Introducing Bloody Business, the new expansion for Scarface 1920!
Mark your calendars: June 21st. Got it? Here it is again: June 21st. Redzen Games has chosen this date to launch the Gamefound campaign for Bloody Business, the new expansion for Scarface 1920.

We find ourselves in Chicago, in 1923. Prohibition began three years ago, and the city's main criminal gangs have amassed enormous fortunes, expanded their businesses, and gained tremendous power. However, the city has become too small, and the ambition of people like Al Capone prevents them from settling for only a part of the pie. They want it all.
Bloody Business expands the universe of Scarface 1920 and takes the gang confrontation to a new scenario. To become the king of Chicago, it's time to shed blood, crush rival businesses, establish new alliances with the most dangerous criminals, increase surveillance on the streets, and exert influence over the highest political officials.
The new expansion helps enhance gameplay strategies and facilitates the implementation of some actions, making Bloody Business the perfect experience for those who want to delve into the universe of Scarface 1920 or for veteran players who want new and challenging gameplay experiences.
G-Men: Shoot first, ask questions later
The escalation of violence in Chicago does not go unnoticed on the Federal Government, which has decided to go all out to end Al Capone and company. One of the novelties presented by Bloody Business is the appearance of the G-Men, a group of tough guys allied with Eliot Ness and led by Melvin Purvis who won't hesitate to use the most brutal tactics to end the gangs.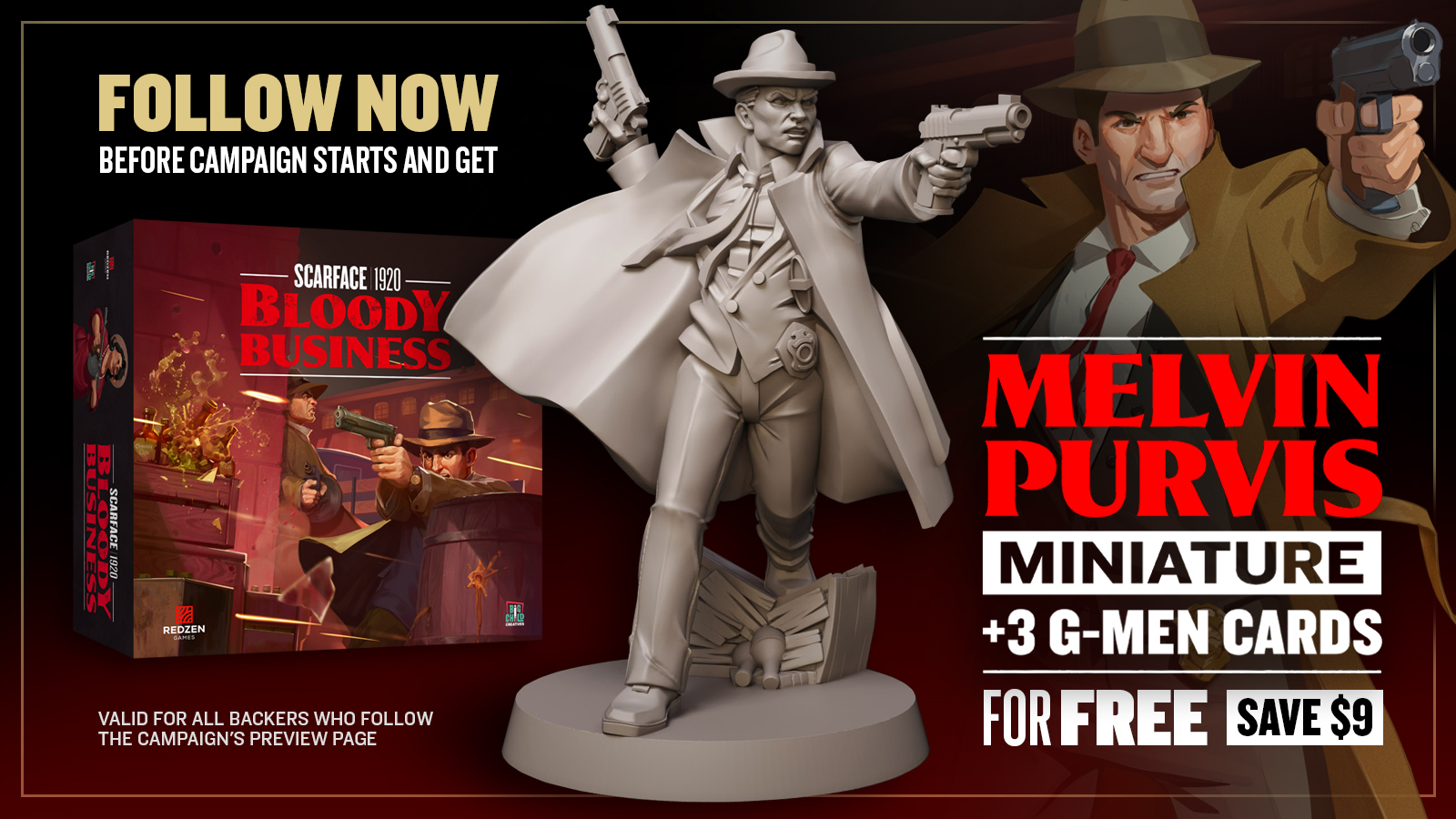 To celebrate the arrival of Bloody Business, Redzen Games has prepared a small welcome gift: anyone who follows the expansion's page on Gamefound and then joins the campaign will receive, completely free and exclusively, the Melvin Purvis miniature and three exclusive G-Men cards. If you miss this opportunity, you can still get the Melvin mini as a paid add-on during the campaign. It's worth a follow, right?
Much more than a violence escalation
Street action… and deals in high places. Bloody Business is much more than a violence escalation in Chicago. First of all, players will need to keep an eye on the political race as well as establish new alliances to ensure control of the streets. It's no longer enough to hire criminals, now you have to find the most dangerous ones. You can't neglect the gang's development either: new fronts also mean new needs. And if there's no other choice, even the Boss will have to get his hands dirty with blood.
Bloody Business fits perfectly with Scarface 1920 by bringing new game mechanics without sacrificing simplicity and accessibility. In fact, many of the elements introduced in the expansion make it easier to enter the Scarface 1920 universe and allow for optimizing each player's turns. More complete without being more complex. More fluid without ceasing to be a challenge. And bloodier, although strategy is not neglected at all.
We'll see you on Gamefound!
Another big novelty of Bloody Business is that it will premiere on Gamefound. There you can already find a page with more information about Bloody Business and, among other things, you can follow us to get the Melvin Purvis mini along with the three G-Men cards for free. By the way, have you seen that there will be two more reveals during the Gamefound campaign? Don't tell me that…