10 curious facts you didn't know about Scarface 1920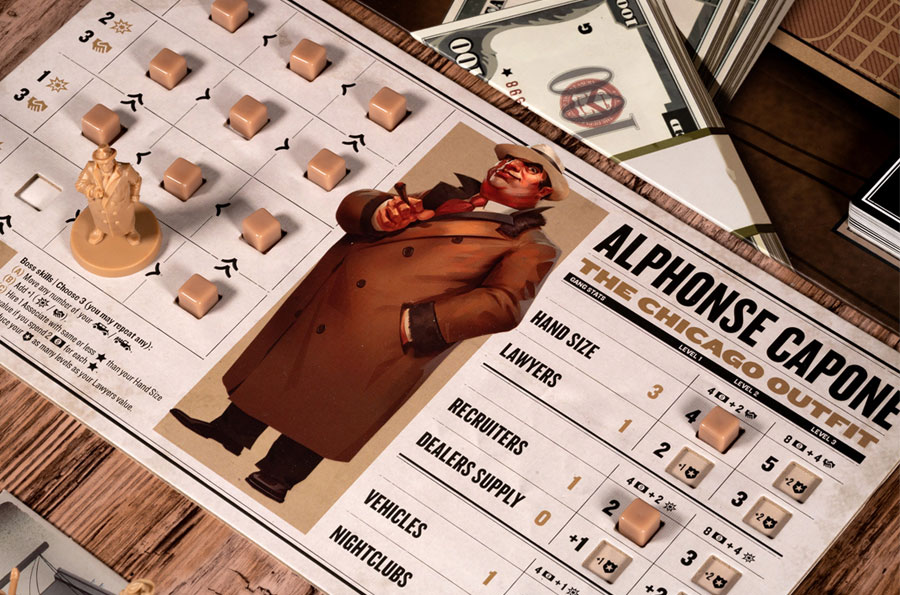 May 14, 2023
The first and most important thing: the Scarface 1920 Kickstarter campaign gained 7,420 backers. Believe it or not, nobody at Redzen Games expected such an optimistic estimate… not even close. What will the reprint achieve?
Originally planned to launch in 2020, exactly a century after Prohibition began, Scarface 1920 had to change plans due to the pandemic. We'll make up for it with Bloody Business, the new expansion for Scarface 1920, which will arrive in June 2023 and is set, approximately, in the year 1923.
Scarface 1920 is already present in 71 countries around the world: did you know we have backers in Sri Lanka, Reunion Island, and even Brunei? If you're reading this, thank you!
The 24 news stories featured in Scarface 1920 are based on real events that actually happened during that time. For example, on the cover announcing the arrival of a new mayor (New Mayor in Town), the guy in the illustration is William Hale Thompson, who was the city's mayor during two periods in that era (1915-1923 and 1927-1931).
Over 1,325,500 Scarface 1920 miniatures have been printed in Chinese factories for those 7,420 backers… in addition to those who joined in the Late Pledge and all the games that have been sent for retail.
The 60 Associates in Scarface 1920 are unique, meaning each one has an original and exclusive design. Many of them are inspired by real-life characters, did you know that? What you surely didn't know is that there are 3 finished Associates that never saw the light.
With nearly 100 votes counted, the BGG poll on which boss won your last game is still very close: 30% for Rothstein, 25% for O'Banion, 25% for Al Capone, and 20% for St. Clair. Rothstein would have loved it…
On the Scarface 1920 board, in the Authorities image, there are three characters marked with a circle: the mayor, the police chief, and a judge. Three organs of power to dominate the city of Chicago.
If we were to put all the Scarface 1920 games we've manufactured on a scale, they would weigh 72 tons. If we put them in a row, they would span a distance of 3.7 kilometers. And if we piled them up, we'd make a tower 1928 meters high.
The Scarface 1920 thank-you sheet, with the names of all the backers, contained a very special message. Do you know the story of Kathi and Tobias?